Should your product bought through www.toyotomi.co.uk fail for any reason please contact by email or by telephone
In The First 30 days From Date of Purchase
If your appliance fails in the first 30 days from the date of purchase you should contact us where we will offer the same replacement item from our stocks.  The defective item will be uplifted and then a replacement sent.
Zibro &  Toyotomi Product 2 to 4 Year Zibro Warranty
Each Zibro model comes with a 2 or 4 year guarantee (not applicable to spare parts) depending on model.  We will first validate that the unit was indeed bought through www.toyotomi.co.uk so we will need your invoice reference and order details.
PLEASE NOTE THAT DOMESTIC PRODUCT WARRANTIES ARE NOT EXTENDED TO COMPANIES HIRING THE GOODS WHERE THERE IS A PROBABLE CASE FOR PRODUCT ABUSE UNLESS OTHERWISE AGREED.
SHOULD UNITS BE FOUND TO BE MISTREATED OR HAVE NOT BEEN REGULARLY MAINTAINED BY NORMAL CLEANING OR MAINTENANCE ETC OR TREATED UNREASONABLY  IT WILL  INVALIDATE ANY WARRANTY CLAIM.
IF UNCLEAR AS TO THE REASON FOR THE PRODUCT MALFUNCTION, IT MAY BE AGREED THAT THE PRODUCT CAN BE RETURNED FOR REPAIR UNDER THE PROVISION THAT SHOULD IT BE FOUND THAT THE PRODUCT WAS MISUSED OR NOT MAINTAINED REASONABLY, THEN A REPAIR CHARGE WILL BE LEVIED TO FACILITATE THE REPAIR INVALIDATING ANY WARRANTY OFFERED WITH THE PRODUCT.
Should The Wrong Fuel Have Been Used
Should wrong fuel found to be used in the Zibro heater at our repair center you will be contacted and given the choice;
i) You may have the unit returned with no repair at a cost of £39.95 + VAT
ii) Should you wish us to clean the system for pollutants & service the whole heater before return we will charge £99.95 + VAT.
An easy way to determine if wrong fuel has been used in the case with wick heaters without taking the unit apart, is the evidence or signs of a brown residue on the mirrored heat reflector behind the wick.  The insides of the unit will also be affected of course and the unit will often have a strong "sulphur" smell.
With laser heaters you can often see this discolourisation of the front grille  and again there will be a strong smell of sulfur.
In both instances there will be a charge levied for the repair and will not be covered by the warranty.
Fault Codes
Where fitted, the electronic displays will have error codes on Zibro heaters. These codes are:-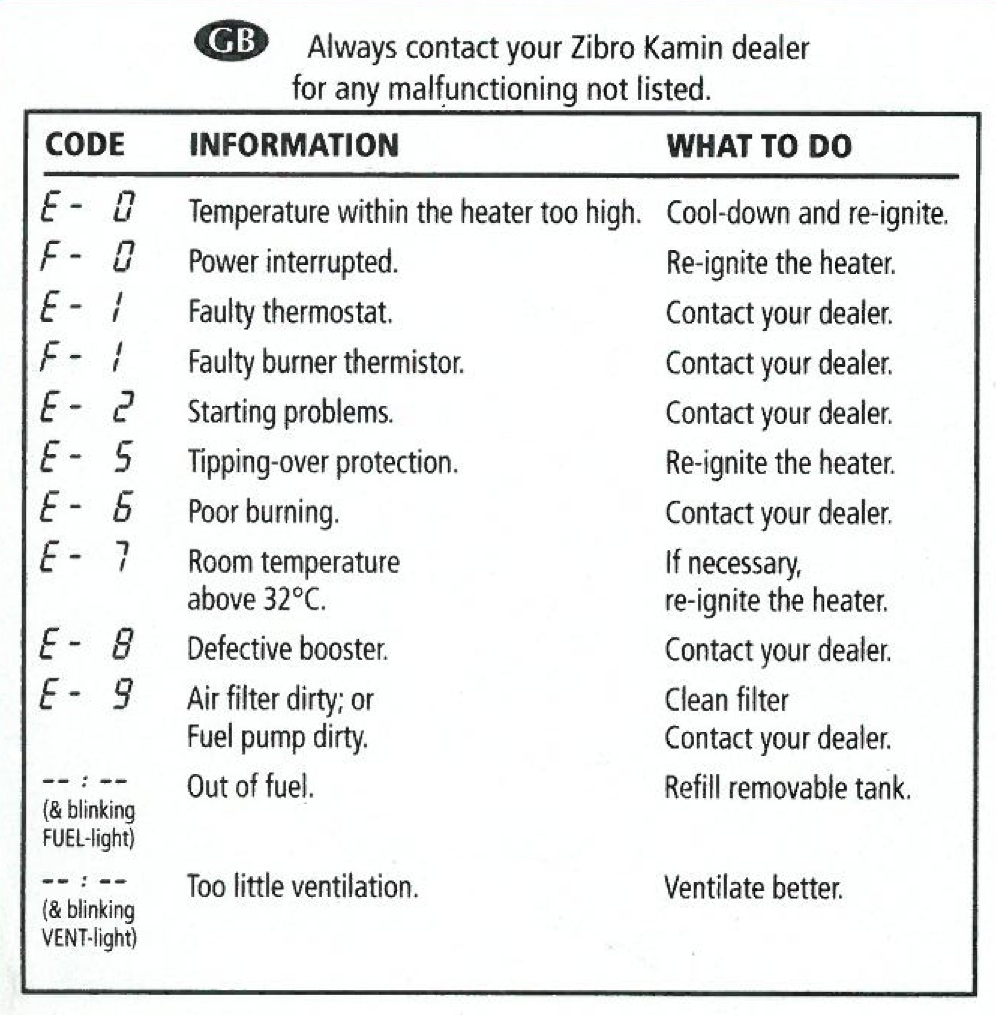 Consumable Parts Needed For Wick Heaters
Wick In the case of a wick heater the cost of a replacement wick due to wear and use it will not be covered by the warranty.  A replacement wick F should be ordered.  A demonstration video of how a competent person can change a wick is below:
Igniter Coil also may need replacing.  These are consumable parts that are not covered by warranty as they wear out with  use of the wick heater. A replacement coil should be ordered. A demonstration video of how a competent person can change a wick is below:
Outside Warranty
Should your product fall out of warranty and need repair or service contact us at www.toyotomi.co.uk and give us your contact details, model and description of the fault or repair.  Please contact by email or by telephone
Fuel and air filters are not covered by warranty.  These can be purchased through www.toyotomi.co.uk contact page.  However on these items we will need the exact product details and clear description of the item required.
Items Bought or Used Outside the UK
Warranty does not extend to items used abroad, changed or modified in any way.  Warranty does not cover items not purchased via www.toyotomi.co.uk.
When Items Are Being Collected or Sent For Repair or Exchange
Please ensure the appliance is packages correctly and securely.  Ideally the original packaging should be kept for any transportation.  The courier system is not fool proof and work often to a drop test standard.  That means that during transit items are 'dropped' so should be packed adequately to survive a drop from a height of 60cm four times and be undamaged.
If you are packing your item for return or exchange please pack the item to withstand the rigours of transport.  You may be liable if your item is damaged when it arrives at our repair centre.
Transporting heaters under zibro warranty ensure unit is drained of fuel.