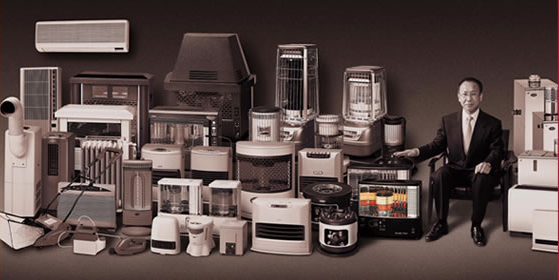 Ecor Pro forms a European partnership with Toyotomi Japan, the manufacturers of Zibro Heaters
A laser Zibro Heater uses a low amount of power from the normal ring circuit in the home.  This powers an internal fan that helps circulate the heat in the room more effectively and faster using convection.  It also powers the digital display.  The mains electric also is used to ignite the system and regulating the burn in the combustion chamber to give radiant heat also.  A laser paraffin heater needs to be plugged into the home power supply to work.
Zibro laser heaters are highly fuel efficient & more odour free than wick heaters
A wick Zibro Heater will use batteries and piezoelectric to initially ignite the wick that burns the paraffin.  That heat produced is mostly radiated out from the heater to the room.  Being reliant only on batteries to operate it makes it ideal to heat places where there is no power supply or where there is a fear of a power cut.
Double Burner wick heaters us a patented Zibro system that is both more efficient in the fuel consumption and "burns" any odour away.  Over a relatively short time the efficiency of the double burner system will more than pay for the additional cost of the unit.
A NF  "Norme Francaise", Zibro NF heaters can be either wick or laser but it have the peace of mind of being the highest safety standard for paraffin heaters in Europe. Developed in France, this standard goes way beyond the usual European & UK standard of CE to give additional safety features to fully protect your family.  Cheaper CE standard products are of course available meeting fully European directives.
When choosing a Zibro Paraffin Heater there are two key questions to ask:-
1, Will there be a power source available for the power to the Zibro Paraffin Heater? – If Yes then you can use a clean burn Laser heater which will have the maximum efficiency.  If no then you can still use the  Zibro Wick Paraffin Heater
2, What size room do I need to heat?  Do you need to consider more than one Zibro Heater for the area you are trying to heat?
Introduction to Paraffin Heaters;
Depending on where you are in the world, the history of using Paraffin to heat homes is varied.  In the 1960s & 1970s there was, in some countries issues using paraffin heaters in the home.  Smell when in operation and issues of safety when filling the heater with Paraffin were then a concern.
Today,  our Zibro heaters range has come a long way since those times.  Clean burning elements often means that any smell is only apparent when the heater is just starting and when it has just been switched off.  During normal operation there is no apparent smell at all when a good quality paraffin is used.
There a range of safety features built into the Zibro range.  Filling the tank can be done in a safe place away from the heater itself by way of the removable tank.  Even spilling the fuel is overcome with the manual fuel pump provided making filling and refuelling your Zibro heater easy, simple with no mess.  Above all its safe.
Accidental tip over will mean the unit cuts out immediately for instance.
Some laser heaters are fitted with CO2 sensors which ensure there is enough air in the room to breath easily & safely.  These are the highest level of safety beyond even the current UK standard and are indicated by "NF Approval".  All models of course comply to CE (EU Product Standards) as you would expect. 
Some units have a "cool top" to stop accidental burning by a child or a child lock to prevent a child playing with the controls and starting the unit when its unsupervised by you.
Many features are around the "Double Burning" feature that Toyotomi invented.  Toxic gases are recirculated and heated in the heat compartment again burning them again to render them safe.
Using the Right Smart Paraffin Fuel;
It is very important to use the right fuel in your.  'Smart' is designed to ensure the Zibro heater is working and will keep working for years to come.  Units not using the correct specification of fuel may be exempt from warranty.  If in doubt see our warranty page.
Advantage Over Electric Heating;
Of course if there is no power an electric heater will not work.  If there is no power you can still use a Zibro wick paraffin heater.
In addition, the heat that a paraffin heater gives out has a more natural feel.  Often electric heaters can give what feels like a dry heat that affects both eyes, throat and your noise making them unpleasant to be around after a time.  The paraffin heat gives a more moist heat that many find more comfortable and natural.
Paraffin heaters can be cost effective.  Electricity, Gas & Oil central heating systems can be costly to run.  Often central heating systems heat the whole house rather than just the part of the home you live in making a Zibro paraffin heater a very viable cost effective alternative for any environment heating whether its home or the work place or just.  Not to mention a Zibro Wick heater is a great emergency heater.
Features & Terms Explained;
Fuzzy Logic Advantage – A kind of self thinking system. For instance when you use the timer and a pre set temperature (i.e. 20°C at 20.00 hours), the heater will not exactly start at the requesting time which is 20.00 hrs, it will start earlier to bring the desired temperature of 20 degrees C approx.. at the time of 20.00 hours.
Save Mode – up to 8% energy savings.  The save mode is an option (special button),  normally the electronic heater version, will regulate between 5 fixed burner modes (P0 up to P4 or low to medium to high) Only when you push the button SAVE it will stop completely when it reaches desired temperature and start again once temperature drops around 3 degrees below the preset temperature. In that sense the SAVE can be used as in  anti frost mode. If not using SAVE mode heater will always burn in the low position.
Human Sensor – Specific models have a proximity sensor that reacts on movement in front of heater. When you activate this sensor and there is no movement for 10 minutes the heater will drop to lowest burning mode.  Once the heater detects movement again it will start higher burning mode.
Booster & Extension Mode – Extension mode is where the removable tank is nearly empty, normally you will have 5 minutes before flame extinction. When the empty tank alarm goes off and you push extension mode, the heater will burn at low position and the time to refill will be extended to 30 minutes, enough time to fill your removable tank.
Thermal Protection – next to the CO2 sensor we used to have a thermal sensor which shuts off the heater around 27.5°C. This was the initial NF safety in stead of CO2 sensor. This thermal system is not sufficient now to obtain NF, but we left it in as an additional safety feature.
Safety Stop – Safety stop is the button to stop immediately.  All have it. Tip-Over stop all models have it and is sometimes referred to as "earthquake device".
Overheat Protection – Overheat protection on the wick is what we call thermal safety. Overheat on the electronics is even more safety.  These models have several sensors measuring the quality of the combustion, both by ionic or thermal sensors.
Cool Top – The temperature will not rise above 10.5°C. You can touch it without burning. CE models do not have cool top so children are at risk unless warned. Electronic heaters never have a warm or hot cabinet.
Ecor Pro formed a European partnership with Toyotomi, our Japanese partners, to sell their advanced piece of engineering which is the result of 65 years of research by Japanese researches, engineers & thermodynamic technicians. This makes Zibro heaters safe & a great source of home heating.  Zibro heaters are often thought of as the best paraffin heaters in the world.